Pillars Recovery is a refuge for individuals seeking to begin their addiction recovery journeys. Currently, we have three facilities located along the coast of Southern California. Our Huntington Beach location offers co-ed addiction treatment in a comfortable, serene setting that's just minutes from the beach. If you're ready to begin down the road to recovery, consider visiting Pillars Recovery Huntington Beach.
Pillars Recovery Huntington Beach Programs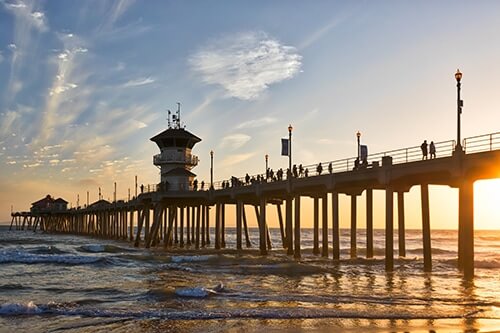 Like other Pillars Recovery facilities, our Huntington Beach location offers several addiction treatment programs to help clients overcome substance use disorder. The cornerstones of our treatment program are residential treatment and drug detox. In this medically-supervised location, clients can undergo medication assisted treatment. Subsequently, they can rest assured that their health and comfort will be a top priority for the Pillars Huntington Recovery Beach treatment staff.
Furthermore, this location offers dual diagnosis treatment. Through Cognitive Behavioral Therapy and Dialectical Behavioral Therapy, clients can learn to understand themselves and their mental health disorders. Understanding these conditions will allow them to develop comprehensive relapse prevention plans that encourage lifelong recovery.
Intimate, Home-Like Sober Living
At Pillars Recovery Huntington Beach, we believe that individualized treatment and compassionate care are essential for recovery. Therefore, our facility has a low capacity limit that allows clients to receive the one-on-one attention they need. Members of our staff can work individually with each client to ensure they're receiving the best care for their circumstances.
Furthermore, the temperate climate and serene setting of Huntington Beach, California provides a peaceful backdrop for recovery. Overcoming addiction can be stressful and overwhelming, so it's crucial that clients at Huntington Beach feel that they have a place to relax and set aside any distractions. In fact, Pillars Recovery Huntington Beach strives to feel as home-like as possible. Our facility is based out of a luxurious Californian home that's a mere three blocks from the beach. Along with comfortable living spaces, clients can also choose between private and semi-private rooms.
Healthy Lifestyle and Diet
Recovery isn't just about overcoming addiction. Similar to how addiction consumes all aspects of your life, it's important to re-evaluate your health and diet. At Pillars Recovery Huntington Beach, we encourage our clients to focus on healthy eating and living. Individuals in our treatment center have healthy meals and learn how to maintain their diet throughout recovery.
Additionally, our facility has gym access and several available outdoor activities. Staying active and healthy is also a comprehensive tool for relapse prevention. Ideally, clients will continue to practice the skills and hobbies they developed at Pillars Recovery Huntington Beach.
Begin Recovery with Pillars Huntington Beach
If you or someone you love needs the help of an addiction treatment facility, then don't hesitate to reach out to Pillars Recovery Huntington Beach. Our addiction treatment programs and therapy services offer a path to lasting sobriety. In addition to our Huntington Beach location, we also offer gender-specific locations throughout California, including:
Finally, to learn more about Pillars Recovery and our treatment philosophy, call today at 866-782-0247. Envision the life you want to live and let Pillars Recovery guide you there!